Spotlight on Theresa Nickens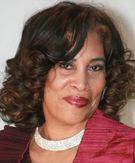 Theresa plays many roles in the group. In addition, to singing soprano, alto, and lead, she is also the driving force behind the group. The word "quit" is not in her vocabulary.

As a youngster growing up in Virginia, she was selected Homecoming Queen in high school. She went on to be selected for Who's Who Among American Colleges and Universities. While working full time, she completed her Masters Degree at The College of William and Mary. It's that sort of tenacity that won't allow a defeatist attitude within the group.

As a psychologists, she has always felt the way to help mankind was to change one's thoughts. Thus, she believes that one must rely on the teachings of Freud and Piaget. Then God called. His call was like a shining light that revealed His plan for her life.

Man's mental health does rely on his state of mind, but should not be conformed to this world or it's teachings, "but be ye transformed by the renewing of your mind that ye may prove what is that good, and acceptable, and perfect, will of God."

Now, through song, she encourages the weak minded to say, "I'm strong."